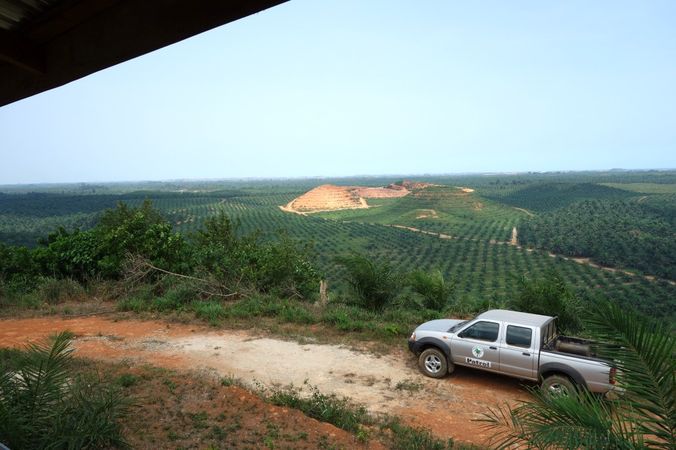 Plantation (Dec. 2012)
NGL's land concession spans an area of 4,500 Ha. - 4000 Ha. at Pretsea and 500 Ha. at Sese. NGL began its replanting programme in 2002 and has so far replanted well above 2,000 Ha.. The Plantation will be fully developed in 2013. The Palm OIl Mill processes fruits from its nucleus estate as well as buying fruits from more than 1,000 independent farmers out-growers, currently constituting app. 65 % of NGL's total FFB milled. Estate fruit exceeded 30,000 mt./year for the first time in 2012.
YIELD IMPROVEMENT STRATEGIES
In line with the overall target of improving yields from the nucleus estate, NGL has introduced a multifaceted approach to address yield improvements:
1. In collaboration with Yara Ghana Ltd., NGL has from 2010 formulated block specific cocktails of fertilizer and also applied optimum levels of fertilizer for the first time since the company started its operations.
2. In collaboration with Agrinos AS in Norway, NGL has completed a test application programme of Agrinos products based on High Yield Technology (HYT) plant growth enhancement inputs. The HYT products are microbial based providing a basis for high yield sustainable agriculture, known to increase yields by above 25%. Compared to control blocks, the application has increased yields by 15%.
OUTSIDE FRUIT PURCHASES (OFP)
In line with ensuring that NGL is the market leader on the OFP landscape, the company is partnering medium to large scale outgrower farms to better manage their farms to ensure sustained yield.
BACKGROUND
NGL buys about 65% of total Fresh Fruit Bunches (FFB) from more than 1,000 private oil palm farmers, mostly referred to as outgrowers, dotted across the Central and Western regions of Ghana.
OBJECTIVE
With the continuous changes in the OFP market, NGL believes that the best way of sustaining the loyalty of the farmers is to partner them in managing their farms. By so doing, NGL is guaranteed sustained volumes of FFB from these farms. At the same time, the farmers are guaranteed secure off take of their fruits at competitive prices, paid on delivery.
SCOPE
This policy is currently restricted to farmers who meet the set of criteria below;
a. The farm must be situated within 20km radius from the premises of NGL
b. The size of the farm must be between 10 – 100 Ha.
c. Palms in the farm must be 5 years old or above, i.e. yielding as young mature palms
In addition to this, the farmers must be willing to enter into a Memorandum of Understanding (MoU) with NGL. The MoU spells out the schedules and costs of operations to be carried out on the farm in the given year and the rights and obligations of both NGL and the farmers.
NEW DEVELOPMENTS
As part of its expansion plans NGL has acquired 518 Ha. of land in the Shama Ahanta District. Survey work to demarcate boundaries and stakeholder consultation is currently underway. The first plantings have been done.
ROUNDTABLE ON SUSTAINABLE PALM OIL (RSPO)
NGL has participated in the RSPO process since its inception in 2003. The multi-stakeholder organization that was established in 2003 will address bad practices in oil palm cultivation.
Vision: RSPO wants to ensure that oil palm contributes to a better world.
Mission: RSPO promotes the production, procurement and use of sustainable palm oil through:
(1) development, implementation and verification of credible global standards,
(2) engagement of stakeholders along the supply chain.
NGL is a member of the National Interpretation Working group that carried out the recently approved National Interpretation of the Principles and Criteria. NGL has prepared an action plan that will lead to finally lead to certification. Among the benefits of RSPO certification are the following:
• a responsible world citizen or corporate body
• the satisfaction of a job well done
• ethical consumers will pay a premium for certified products with traceable supply chains
• overall benefits being a responsible palm oil producer
OIL PALM PRODUCTION AND BIODIVERSITY
Palm oil plantations are a monoculture but the land supports a variety of rare animal species. Mammals including monkeys, antelopes and squirrels are found, along with snakes, lizards and several species of birds. Hunting is banned creating a safe haven for mammals to thrive in a safe environment, limiting pesticide use The plantation minimises pesticide use. Pesticides are mainly used in the nursery and when one needs to manage pockets of pest infestations like the leaf miner. Herbicides are used around the older palms creating weed free circles of 2.0 m diameter per tree but this is alternated with hand weeding. For young plants weeds are normally controlled by manual weeding and slashing. Chemical spraying is not carried out along river banks.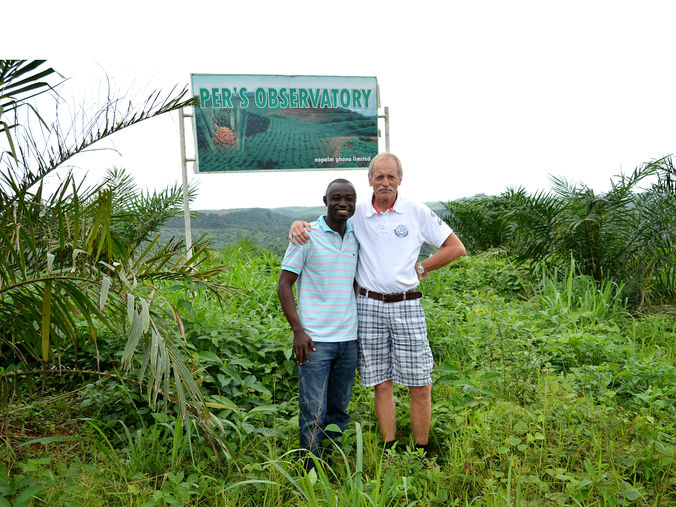 Per's observatory - on a hilltop in the middle of NGL plantation
This website uses cookies to store information on your computer which will help to customize your interactions with us and provide you with a better browsing experience. You may delete and block cookies from this site, but parts of the site may not function as a result. Furthermore we wish to use Google Analytics for tracking visitor statistics.